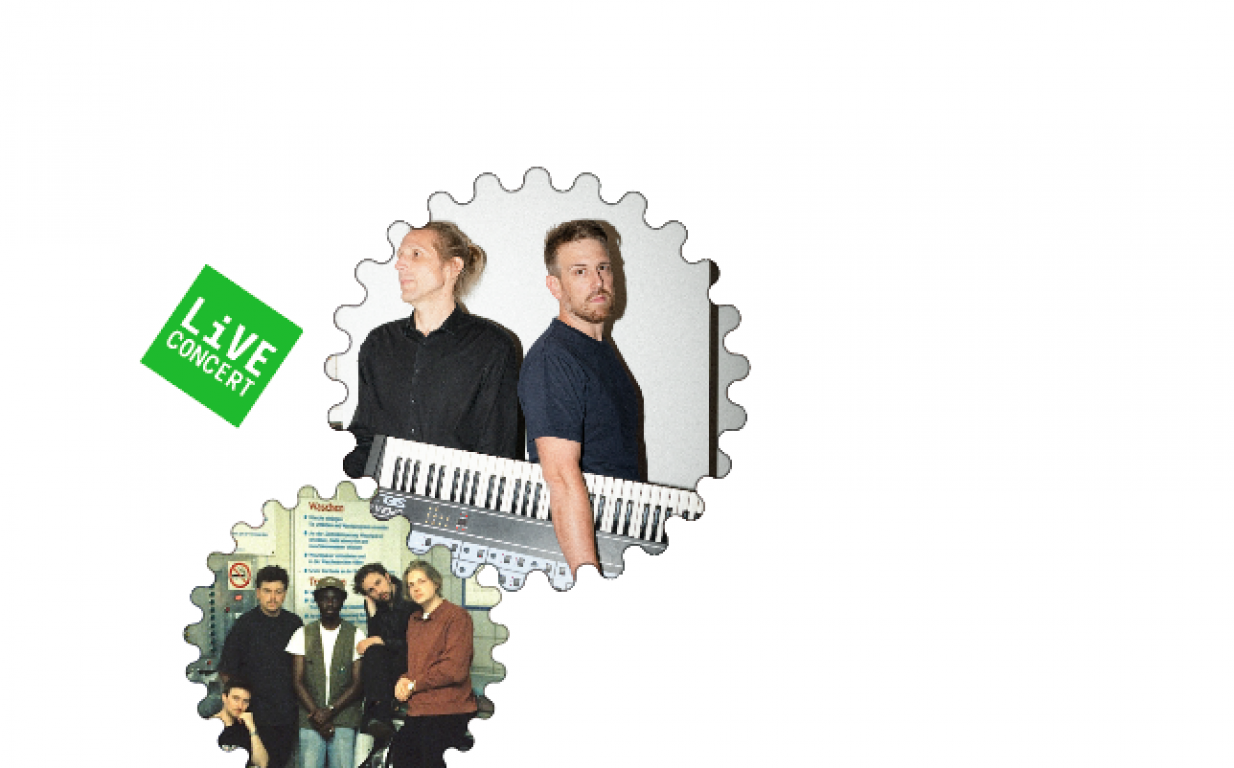 DOORS 20:00
SHOW 20:30
PRESALE 13/9 (student)
https://loveyourartist.com/en/events/cosmokramer-lu-easy-easy-luxembourg-898IC9
TICKETS AT THE DOORS 15/12 (student)
COSMOKRAMER (LU)
Meet Cosmokramer, the Luxembourg-based electronic pop project by singer Olivier Treinen and producer Yves Stephany. Drawing inspiration from the golden era of new wave, their music combines a heartfelt and introspective journey with an irresistible beat. Their haunting sounds, created by analog synthesizers and Yves' iconic basslines, harmonize with Olivier's distinctive vocal artistry, reminiscent of the legendary vocalists of the 1980s.
Get ready for their latest single, "Spleen Queen", landing on streaming platforms on November 17th. This
captivating track, loosely inspired by the aesthetics of the movie Blade Runner, delves into the essence of love, connection, and the human experience. You're invited to witness this musical journey live at De Gudde Wëllen on November 23rd, where Cosmokramer will perform 'Spleen Queen' and other new songs. Immerse yourself in the mesmerizing world of Cosmokramer and experience their latest musical creations.
EASY EASY (DE)
They come from Cologne and owe their name to an arm tattoo of one of their members. Last year they supported acts like Hippo Campus, Some Sprouts and Sportfreunde Stiller, played several Festivals and sold-out concerts and were able to break the sacred mark of one million streams. EP number 3 [Echoes etc. Vol. 1] will be their strongest and most complete work yet - connecting the vibe of their debut EP [lemon squeezy] and the drive of their second [sleet].
Since they emerged 2021 out of their bedroom studios with relaxed songs about skateboarding, partying, and hangover depression they developed a sound of their own. Easy Easy's musical year 2023 kicks off with "stonecage" followed by "schädel".
On Stage Luis Seinsche [guitar], Merdi Mavuidi [guitar], Robin Frank [drums] and Julien Schenk [bass] follow Carlo Lüdorf [vocals, guitar] into an infectious performance of intense and sometimes unintentional anarchistic entertainment which incorporates pop influences alongside a foundation of synth, programmed beats and real drums. The audience, too, is being taken to task. An Easy Easy concert is teamwork. The band leaves no doubt about that. Easy Easy unites with their fans in an unstoppable force of a new wave feel good indie acid trip with a short cover of Cher's Believe on the way.
Tickets