USINA 22
Saturday
- 11.06
(festival)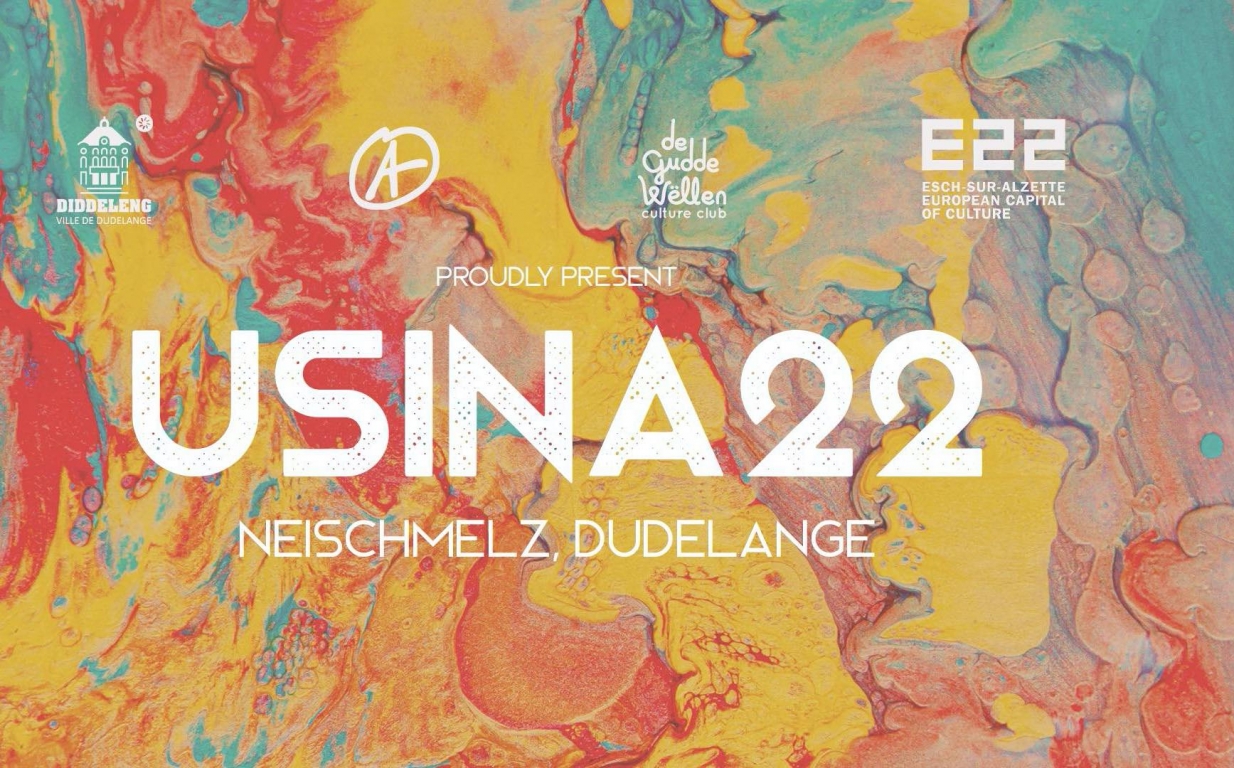 Ville de Dudelange, Opderschmelz, A-Promotions & De Gudde Wëllen present:
Usina 22, a new two-day open-air festival taking place in Neischmelz, Dudelange on Saturday 11th & Sunday 12th June 2022!
Crafted with love by major Luxembourgish cultural players, Usina 22 is all about creating an eclectic musical experience with a strong international line-up on day 1 & local talents for all ages on day 2 (which is free entrance)!
LINE-UP | DAY 1 | 11.06.22
Kings Of Leon, Caribou, Tuys, The Mysterines, Charlotte Adigery & Bolis Pupul, Francis of Delirium, Klein, Crack Cloud, Xique-Xique, Claire Parsons, Tukan, Spoon and the Forkestra, Indigo Mango, Sheebaba, Argon, Règlement de Comptes, Aka Ghost & Paulinska
Compagnie Dynamogène, Dj Frietmachine, They Call Us Bewitched
Tickets > 39,50 via www.usina.lu
LINE-UP | DAY 2 | 12.06.22
Fools Garden, Siegfried & Joy, Culture the Kid, Itinerantes Dance Orquestra, Zaltimband, Remo Cavallini, Chasey Negro, Elements The Show, Les Ons, Meta Frequencies Soundsystem (with Dusty Wata, Don Gio, Eva Lazarus, Ionn Connor), Tambores Itinerantes, Dow Super Show, Ecole Régionale De Musique Dudelange, Dj Frietmachine, Compagnie Dynamogène, They Call Us Bewitched, Bobby Bieles Live Band, Tous sur Scène avec Daniel Moutinho.
With the support of Esch2022.
Co-curated program created by:
CCRD OpderSchmelz, Den Atelier, De Gudde Wëllen, Kulturfabrik, Rotondes, Schungfabrik, Rocklab, Koll An Aktioun, DKollektiv, Itinerantes, De Läbbel, Dudelange On Wheels, Aalt Stadhaus, Réckel by Lycée des Arts et Métiers
VENUE
USINA22/ NEISCHMELZ
1a Rue du Centenaire,
L-3511 Dudelange