RIKAS (GER)
Thursday
- 14.11 2019
(concert - jungle pop)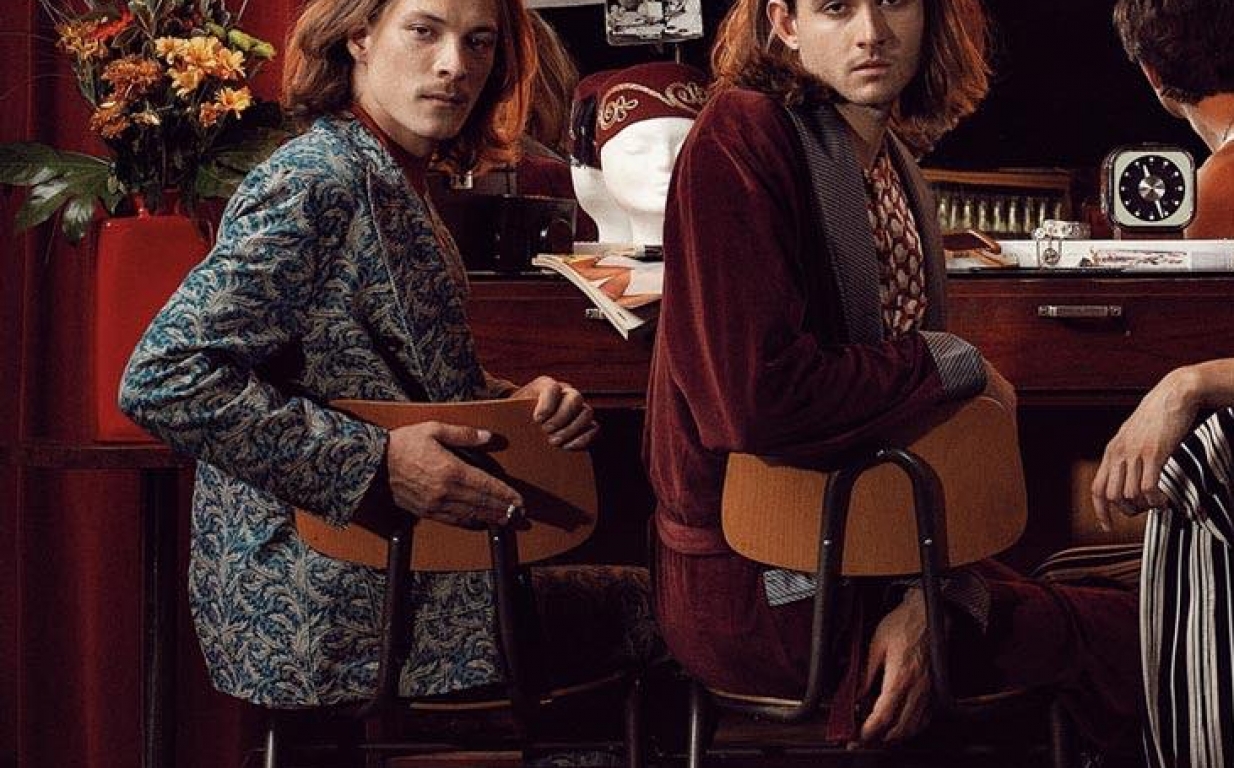 Doors 20:00
Show 20:30
Support : Luka Noa
Tickets 9/7*
(*students)
__________________________________________________________________________________
RIKAS - Showtime 2019
Private beach party, the wedding company is gathered together, the drinks are cold and the ocean piss warm. Linen suits, party dresses, cocktails and a Chiwawa on the lap, who is getting too much attention. Not on the guest list again are the four guys from the band Rikas, too bad.
The bar next store is grooving, lights are twinkling and the concert starts: Bikinis, surfer shorts, go pass the hat around and dance with rum in rhythm. Sand in the drinks, splinters in the feet. play another song, fasten your seatbelts and tell the girls the MS RIKAS is in the port.
These four Hombes from Stuttgart have known each other since early school days, taking music and singing lessons together. On summer breaks they bought an interrail pass and played street music in Europe´s great cities. Soon it became clear that after graduation from school and their own song writing in their pocket, they were on their way to forming in 2016 the band Rikas. Since then, Sam, Sascha, Chris and Ferdi have turned in the interrail pass and switched to a Tour bus with endless kilometers on the highway opening support for bands such as Bilderbuch, The Lemon Twigs, Parcels, AnnnenMay Kantereit, and Von Wegen Lisbeth. Festivals performances include Appletree Garden and the c/o Pop.
September 2017 found them in the studio with their own songs, recording together between Berlin and Stuttgart with Producer Robert Stephenson. Their first EP"Swabian Samba" is on the way with six colourful songs between Jangle ,Surf, Twang and Latin and help from the harmonies and changing the lead singer makes for a dynamic identity… Olé!
https://www.facebook.com/rikasband/
https://www.instagram.com/rikasband/?hl=de
https://www.youtube.com/channel/UCHUTNiTM1w97yVrV9b1ChdA
LUKE NOA
Luke Noa progresses without losing herself in the current speed mania. As a child of modern times, he draws a path far away from musically prepainted and all too defined images. Rather, he uses the stylistic pluralism of modernism to soften boundaries and creates a collage of pop, soul, hip hop and folk in songwriting. The self-confident, audible sense of aesthetics that makes him an artist is omnipresent. Just 20 years young, Luke Noa got off to a good start. With his debut EP 'Adaptation' he sums up his thoughts and feelings and publishes the first chapter of his maturing process into an expressive musician.
https://www.facebook.com/lukenoaofficial/
https://www.instagram.com/lukenoaofficial/
https://www.youtube.com/channel/UCQZrUpiBKPKvH5EtZaBPTPQ
Tickets