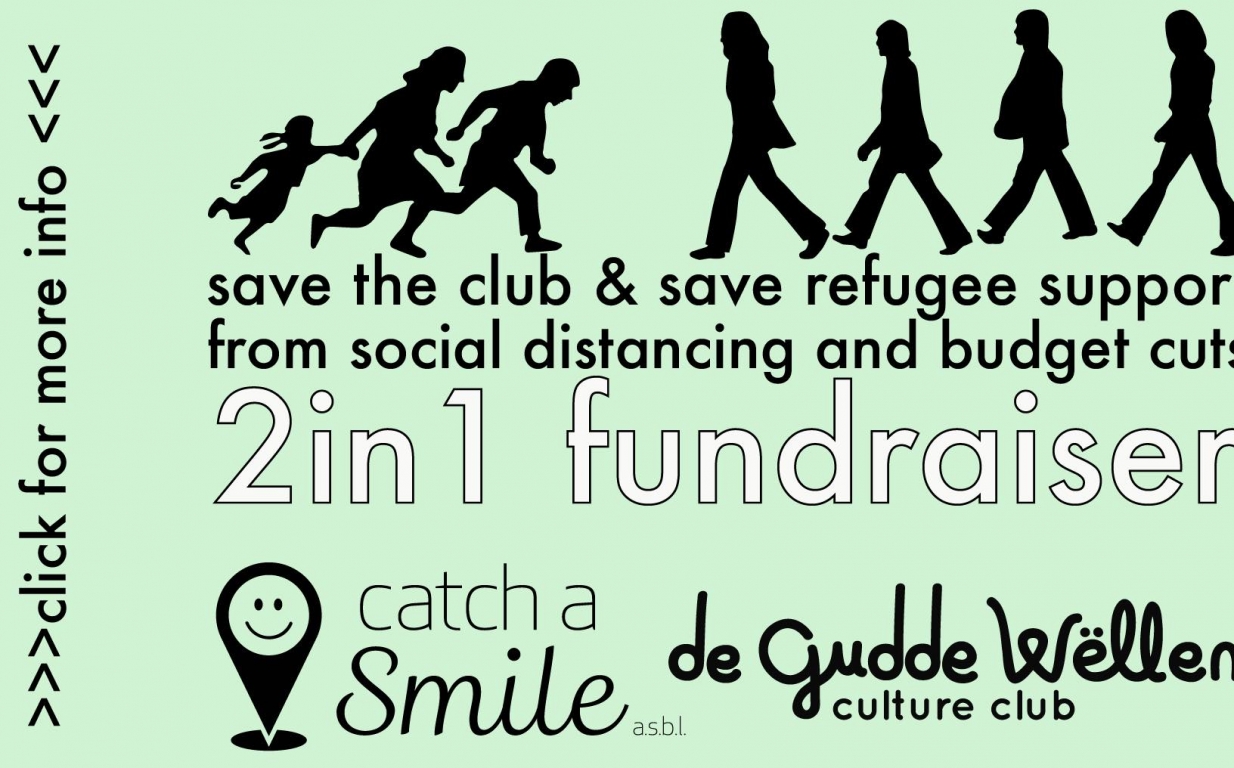 Dear customers, friends and family,

As we all know that a series of measures have been put in place to halt the COVID-19 pandemic, and we all have been affected by it in one way or another. Currently we are all fighting our own battle and struggling in our own way, and this is the moment where we need to get together and be strong as a one big community.

Due to the indirect impact the pandemic is having, now, more than ever De Gudde Wëllen needs your help. And as a consequence we would like to use our position to help those whose needs are currently being pushed back from the headlines.

De Gudde Wëllen is an independent bar and Culture Club. We receive no funding by the Government or the City. Basically, all the financial benefits we earn by selling beers and GinTonics on Friday and Saturday nights goes into paying the artists, the technicians and the material needed to maintain such a program, which is fine, as long as no big disruption happens.

Even if the government has announced help to pay for the salaries of our 8 employees, we still have approximately 10.000 euro of monthly fixed costs which are not being paid for such as our rent, bank loans, leases, etc. as well as the contracts we have with for example our technicians, security staff, and other freelancers. Even if De Gudde Wëllen is closed, it would be best if we could keep on paying them. Otherwise, we're just shifting the problem and when everything will get back to normal, we would need more time to recover and would have to stop certain programming or even reduce our opening hours to get back on our feet.

De Gudde Wëllen is an important platform for the cultural life of Luxembourg, considering the fact that we always try to incorporate local artists in our program and support local non profit organisations by giving them our space to raise awareness about the topics that concern us as members of society.

Therefore, when we look for help for ourselves we would, once again like to share it with those in greater need.

What is important is to not forget about other catastrophes that happen in the world and that there are people who need help that require more than self isolating at home. We settled on focusing on the refugees who are fleeing war and famine and seeking asylum, and being met with unprecedented violence by the European authorities at the Greek-Turkish border, as well as across the Mediterranean Sea.

CATCH A SMILE asbl is a Luxembourg based non profit organisation, which conducts a series of actions, including relief convoys to the Balkans & Greece, to Calais & Dunkerke, the collection of financial and material aid, as well as information campaigns.

Therefore, for every euro we would get from you, we'll transfer 50 cents to Catch A Smile, sharing not only financial support but also encouraging awareness and further collaboration together to help as much as we all can to make our world a safer place.

This fundraiser is addressed to all of you who have a secured, regular and okay income. Especially to our regular guests and clients, who usually support us by buying tons of booze and concert tickets. Anything helps.

If you want to support just one of the causes but not the other, that is cool as well. Check out the Catch A Smile website, you'll find the info.

merci,
More on catch a smile : https://www.catchasmile.org